Coronation Chicken.. mmm, the best!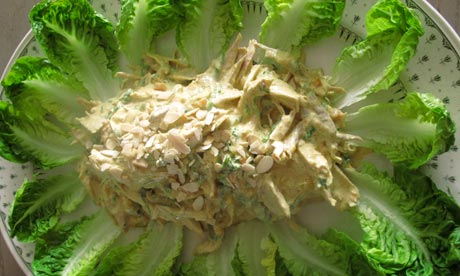 Perfect for these warm Sunday lunches.. nice and easy, I serve it on Cos lettuce leaves, but its also great with Basmati Rice and a crisp green salad.
Jean's Coronation Chicken
chicken, about 1.5kg (I used breasts/thighs only) and depends on how many are comign for lunch..
1 cinnamon stick
5 black peppercorns
Pinch of saffron
1 tsp salt
4cm piece of fresh ginger
Bay leaf
5 tbsp good quality mango chutney
50g ready-to-eat dried apricots, finely chopped
2 tbsp good curry powder
2 tsp Worcestershire sauce
200ml homemade mayonnaise – I use TOMMY mayonnaise from Woolworths
200ml Greek
yogurt
(*fat free)
50g flaked almonds, toasted
Small bunch fresh coriander, chopped
Green salad and basmati rice, to serve
1.
Put the chicken, breast-side up, in a large pan along with the cinnamon, peppercorns, saffron, salt, the bay leaf and half of the ginger and fill with cold water until only the top of the breast is exposed. Cover with a lid and bring to a simmer, then turn down the heat so only the occasional bubble rises to the surface. Cook gently for about one and a half hours until the juices run clear. Take out of the pan and set aside to cool, then remove the meat in bite-sized pieces while lukewarm. Finely chop the rest of the ginger.
2
.
Put the mango chutney and apricots into a large bowl. Toast the curry powder in a dry frying pan until fragrant, then add the chopped ginger and stir both into the bowl, followed by the Worcestershire sauce, then the mayonnaise and yoghurt. Season to taste.
3.
Once the chicken is cold, fold it through the dressing and refrigerate for at least a couple of hours before folding through most of the coriander and serving topped with the almonds, with a green salad and basmati rice.- I served it on cos lettuce leaves
Recipe books?.. who needs them now if you've got a computer!
My pile are seldom opened, but they make a great conversation piece in the kitchen!
This one is totally recommended!
ps.. excuse my pics please.. rather hasty this morning.. got a pile of things to get done..
Its a fabulous book, even if I only read it, and never cook out of it!
Ps.. I've got a Culinary journey to discover Vietnam and Cambodia with author Kim Fay .. details?